---
---
News 2014
Year 2 Data Shows that Healthy Communities Has Narrowed the Health Care Gap for People with Intellectual Disabilities
Washington, DC – November 19, 2014
– Special Olympics released data today outlining the results of its successful two-year old Healthy Communities initiative and announced that it will expand the program from 14 to 100 sites by 2025. World experts will convene at Planning Workshop in NYC December 10, sponsored by Golisano Foundation.
Read more
---
The Institute for Innovative Transition presents Annual Institute
October 17, 2014 –
Please join us for the Institute for Innovative Transition's 2014 Annual Institute. This year's Institute, designed for parents, students, and professionals, will focus on inclusive higher education and transition and will feature a keynote address by Claire Bible and the general session, College and Career Readiness Resources for Students, by Lori Cooney. 
Read more
---
Golisano Restorative Neurology and Rehab Center Dedicated at Rochester Regional Health System

September 17, 2014 –
The new Golisano Restorative Neurology and Rehabilitation Center at 
Rochester Regional Health System
 was officially dedicated on September 17, 2014. The celebration was attended by Tom Golisano, Golisano Foundation Director Ann Costello, former patients and staff. 
Read more
---
Tom Golisano and Golisano Foundation Donate $3.5 million to Niagara Falls Memorial Medical Center for New Golisano Center for Community Health

Niagara Falls, NY – September 17, 2014 –
Tom Golisano has made a gift of $3.5 million to Niagara Falls Memorial Medical Center. It is the largest in the medical center's history and will support construction of an innovative new Golisano Center for Community Health. The Center will provide a wide range of services and care to people with special needs. 
Read more
---
Ann Costello Invited to White House for Celebration of a Unified Generation

Washington, DC – July 31, 2014 –
Ann Costello, Golisano Foundation Director and her husband Tony, were guests at a dinner hosted at the White House by President Barack Obama and First Lady Michelle Obama. The event was 'A Celebration of Special Olympics and A Unified Generation,' celebrating Special Olympics' work to activate young people to fight inactivity, intolerance and injustice. 
Read more
---
Golisano Foundation Donates $100,000 to Nazareth for New Wellness and Rehabilitation Center

May 20, 2014 –
Nazareth College and the Golisano Foundation are proud to announce the expansion of their partnership with a gift from the Foundation of a $100,000 to support the construction of the new 
Wellness and Rehabilitation Institute
 (WRI) at Nazareth College. 
Read more
---
First "A Day for Special Smiles," Providing Needed Dental Treatment to People with Intellectual Disabilities
May 13, 2014 –
Special Olympics, the Golisano Foundation and UR Medicine's Eastman Dental are taking action to bridge a long-standing gap to improve access and oral health care for people with intellectual disabilities (ID). 
Read more
---
Business Connection Summit – Hiring People with Disabilities
May 13 – Join local business representatives to discuss the benefits of hiring individuals with disabilities. Learn about tax incentives to businesses and strategies for making reasonable accommodations in the workplace. Meet highly-qualified candidates with disabilities.
---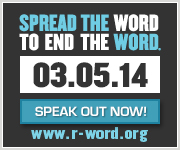 Spread the Word to End the Word is March 5
The Golisano Foundation encourages you to spread the word to end the word. We want to raise the consciousness of society about the dehumanizing and hurtful effects of the word "retard(ed)" and ask people to pledge to stop using the R-word. Take the pledge and turn your commitment into action and spread the word to others. 
Read more
---
Inspirational Film "The Crash Reel" at The Little Theatre 

Directed by two-time Oscar® nominee Lucy Walker, 
The Crash Reel
 is a jaw dropping story about one unforgettable athlete Kevin Pearce. This screening is part of Little Theatre's ONE TAKE doc series and Dialogue on Disability, a partnership between WXXI and Al Sigl Community of Agencies, which is supported by the Golisano Foundation and part of Al Sigl's Herman and Margaret Schwartz Community Series, funded by the Fred L. Emerson Foundation. 
See more

News Archives
---
---