News & Events 2013
View past News & Events by year:

Golisano Children's Hospital of SW Florida Holds Ceremonial Groundbreaking to Celebrate Community Commitment

December 10, 2013--Tom Golisano joined Lee Memorial Health system leaders to celebrate progress on the capital campaign for construction of a new 128-bed state-of-the-art pediatric hospital. Construction is scheduled to begin in 2014 with the new facility scheduled to open in 2017. See photos & news
Institute for Innovative Transition at Strong Center for Developmental Disabilities Issues its FiveYear Report to the Community

Read about the many lives of young adults with developmental and intellectual disabilitieswho have been touched by the Golisano Foundation's investment in the Institute for Innovative Transition. Read report | Past News
Niagara University Cuts Ribbon on B. Thomas Golisano Center for Integrated Sciences
October 9, 2013 – "This truly is a historic day at Niagara University, one that will forever change the scientific research and teaching that happens on our campus." Those were the words used by the Rev. James J. Maher, C.M., NU president, to encapsulate Wednesday's grand opening of the B. Thomas Golisano Center for Integrated Sciences. Read more
Free syposium Helps Families Plan for Future - October 10
October 1, 2013 -- More than a dozen local agencies are hosting a symposium designed to help families with children who have developmental disabilities plan for changes in the Medicaid system, meeting their child's goals and future financial needs.Carol Blessing, who has spent more than a decade on the faculty with Cornell University's Employment and Disability Institute, will be the featured speaker. Register: www.humanservicesed.org/symposium.
$20 Million Matching Grant from Tom Golisano to Lee Memorial Health System a Tremendous Success
October 1, 2013 --Lee Memorial Health System Foundation and Golisano Children's Hospital of Southwest Florida announced that the $20 million challenge grant issued by Tom Golisano in May 2012 has been matched. Thousands of individuals, companies and foundations supported Golisano Children's Hospital of Southwest Florida's capital campaig. Read more


For the 9th Year Tom Golisano is Major Underwriter of the Clinton Global Initiative Annual Meeting
September 23, 2013--This year Mr. Golisano's focus will be on the progress made since he announced a landmark $12 million gift to Special Olympics to launch Healthy Communities. He will open a session September 24 with Malawi President Banda and Special Olympics International CEO Tim Shriver on Empowering the World's Billion People with Disabilitie. He will also host a Dinner on People with Disabilities and the Global Development Agenda. Read more
Delegation from Golisano Foundation, AADMD Students and Special Olympics Attend Clinton Global Initiative – University In St. Louis
April 2013 --Ann Costello, Director of the Golisano Foundation, students from the University of Rochester and Nazareth College, and representatives from Special Olympics attended CGI U year and met with President Bill Clinton and Chelsea Clinton. Read more and see photos
March 6 is Annual Day of Awareness to End the R-Word
On March 6, the annual day of awareness of the hurtful use of the R-word, the Golisano Foundation is once again challenging the Rochester community to Spread the Word to End the Word™ to create a more accepting world for people with intellectual and developmental disabilities who have unique gifts and talents to share with the world. Read more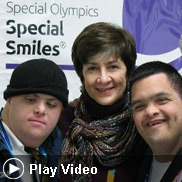 Interview with Ann Costello from South Korea on How Tom Golisano and the Golisano Foundation are Helping to Improve the Health of Special Olympics Athletes Around the World.
As one of the most recent and largest sponsors of Special Olympics health programs, the Golisano Foundation will have a game-changing impact on athletes' lives for years to come with a $12 million commitment. At the World Winter Games PyeongChang 2013, foundation Executive Director Ann Costello explained the impetus behind this incredible gift. See Video
New Photo Gallery Added from Special Olympics
See more photos of Ann Costello in South Korea including the presentation of medals for the Alpine Event and Healthy Athlete screenings. See Photos
Ann Costello is Representing the Golisano Foundation at Special Olympics Winter Games in South Korea

Ann Costello, Director of the Golisano Foundation, is in South Korea for the 2013 Special Olympics Winter Games, January 29 - February 5, 2013. Ann is participating in the opening ceremonies, global summits and other key events and is speaking at meetings on the Healthy Communitiies initiative. Read more